Dear Friend of Avalon,
It was my Mom's birthday this weekend. I am so blessed to still have my mother in my life. She lives in Toronto, Canada and I had hoped to visit her on her 91st birthday. Because of the worldwide COVID-19 pandemic, this was not possible. But luckily we live in an amazing world full of technologies that help us connect.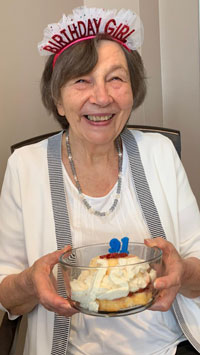 We have so many great memories and love to reminisce.
My Mom and I have numerous memories of walking in the rain, all bundled up, arm in arm. But, we especially love walking on a beach with the wind blowing in our faces and the ocean roaring in our ears, hand in hand! So for her birthday, I invited Mom for a walk by the Pacific Ocean across from Golden Gate Park in San Francisco. And she accepted, via technology.
Thank goodness for "smart" hearing aids!
I called my Mom using FaceTime on my iPhone and she answered 2700 miles away on her iPad. I was able to see her smiling face and she was able to see the Pacific Ocean and hear the roar of the waves directly into her Starkey Livio hearing instruments! 
Her smart hearing aids are paired to her iPad so the sound goes directly into her ears for better sound quality and extra clarity! She saw the sunlight sparkling on the ocean, miles of sandy California beaches and the Cliff House Restaurant where we had dined almost 30 years ago. Although we weren't able to be together, physically, we still had a unique human connection that filled both of our hearts!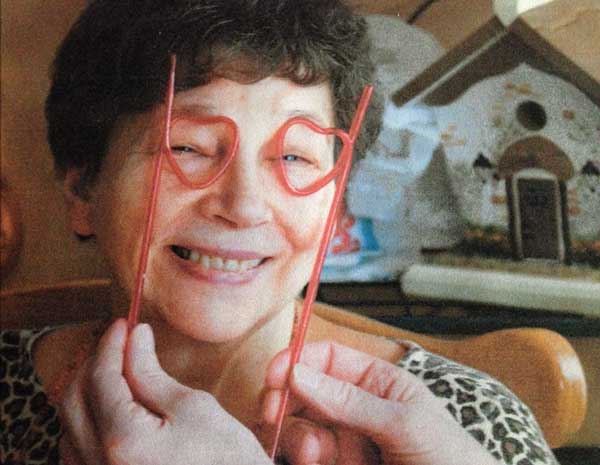 I speak with my Mom most days.
I usually call in the evening when my Mom is watching television. This is how the beginning of the conversation goes. "Hi Bet! Wait just a minute while I turn the TV off in my ears so I can hear you." 
My Mom has a TV Streamer hooked up to her television which sends the sound directly into her smart hearing aids. Mom loves this assistive listening device because listening to TV had become a chore because of her moderate hearing loss. It was frustrating to work so hard to follow a TV program. Besides, TV is supposed to be entertaining, not add more stress to your life.
Are you struggling with the TV?
As we continue to honor sheltering-in-place and physical distancing, most of us are spending extra time at home and we are watching more television. If you and a family member are fighting over the volume of the television or if you are simply frustrated with the clarity, you might enjoy getting your own wireless TV streamer.  We have several versions of streamers depending on the type of hearing aids you have. This is not just a headphone. What's great about TV streamers is that you keep your hearing aids on, getting the stimulation and benefits of wearing them. Your hearing aids become your headphones. Clarity and comfort are much better, and you are not disconnected from your world like you are when wearing headphones.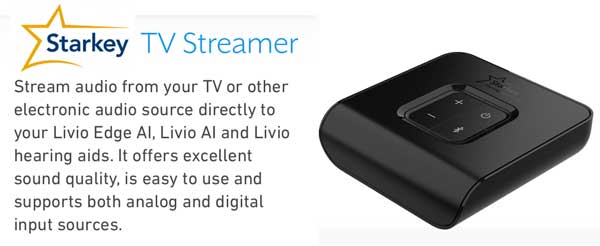 My 103-year-old client invested in this technology just last week!
Although this extraordinary lady of 103 (or as she says, 103 and a half years old!) could not justify getting new hearing aids, she invested in the TV streamer and remote control. So you are never too old to make your life easier and more fulfilling with modern technology!
Depending on the technology of your hearing aids, the TV streamers range from $375 – $450. Most people also invest in a remote control which is $250. 
Remember, we are here to help you connect!
Let's start with the human connection! We sure miss our longer appointments with you, AND our hugs. But let's continue doing our part to keep each other healthy.  We have created a safe place for you to come for your hearing care appointments at Avalon.
Whether you would benefit from a TV streamer or new smarter hearing aids, your Avalon Family is here to help you connect. I can't begin to tell you the joy I feel when we help someone in their 70s, 80s, 90s, and even 100s to get more fully connected to what matters most to them.
Call to make a phone or physical appointment with your hearing care provider.
If you want to feel less stress when watching television or simply want to hear more clearly, call today to schedule the type of appointment that would work best for you.
We can even do phone appointments!
Would you call someone you care about and connect?
I have a request to make of you. Would you please call someone in your life and connect with them through a memory you share with them? Go down memory lane and reminisce. I promise you it will help both of you to connect and warm up your heart!  So I dare you to pick up the phone and reach out to connect!
P.S. One more dare! 
My mother asked me years ago to join her in Holland (her homeland) for their annual flower festival close to her home town. She asked several times and I finally met her in Holland. This picture is worth a thousand words. The love, joy, and connection I felt with my Mom was priceless!!! Is there something on your bucket list that you have been putting off?